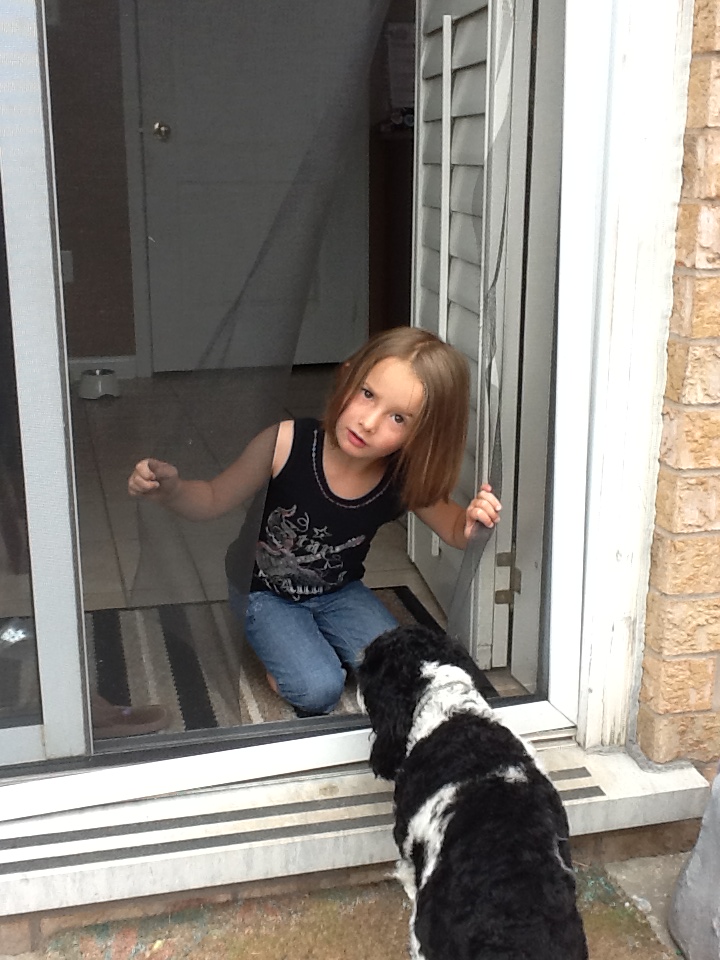 Screen repair man is your local
Screen door repair specialist!  Our pet-proof screen mesh is great for kids and pets!
Did you know that you can actually hire someone for screen door repair or window screen repair in Burlington, Oakville, Hamilton, Ancaster, Milton, Mississauga, Stoney Creek areas of Ontario? And even better, we come to you! Screen Repair Man is your mobile screen repair provider for all kinds of screen repair or screen replacement, helping you to keep the bugs out and your pets in! We will arrive on time and re-screen any type of window or door, even those oddly sized windows and one-of-a-kind doors. Your new screens will be custom fitted inside your existing window and door frames by our mobile technicians, saving you time and money.
Satisfaction Guaranteed on Screen Door Repairs!
Has your new puppy accidentally clawed his way through your patio door screen? Or perhaps some outside critters have tried to gain access to the tasty treats just inside your kitchen door by chewing a rather large whole into the screen? Call the Screen Repair Man for high-quality repairs that are 100% guaranteed with 12 months warranty on workmanship.
 Screen Repair Man Takes the Stress out of Screen Repairs! We do everything onsite!
We will even remove the old screen and frame for you when we arrive at your home or office. Then we instantly begin the screen restoration and re-screening process, performing all of the required work on-site while you go along about your day. There is no need to spend countless hours in hardware stores shopping for the perfect replacement screen. And you never have to worry about scheduling drop-off and pick-up times because our expert screen repair technicians always come to you. We do everything on-site, on-time, and at very affordable rates.
We even Specialize in Pet Proof Screens!
Did you know that there is more than one type of wire that can be used in the repairing of your window and door screens? Most homeowners are not aware that there is a second option of wire specially designed to prevent damage from our furry felines and precious pooches. Ask us about our Pet Proof Screen Mesh which is actually 7 times stronger than the traditional wire mesh found in store-bought door and window screens. Not only will this extra-strength mesh keep your pets safely inside the home, but it will also prevent those unwanted outdoor creatures, mosquitoes, and flying pests from making their way into your home as well. And we can even include a pet door inside the screen as well!
Getting Ready to Sell Your Home New Screens can Make a Huge Difference!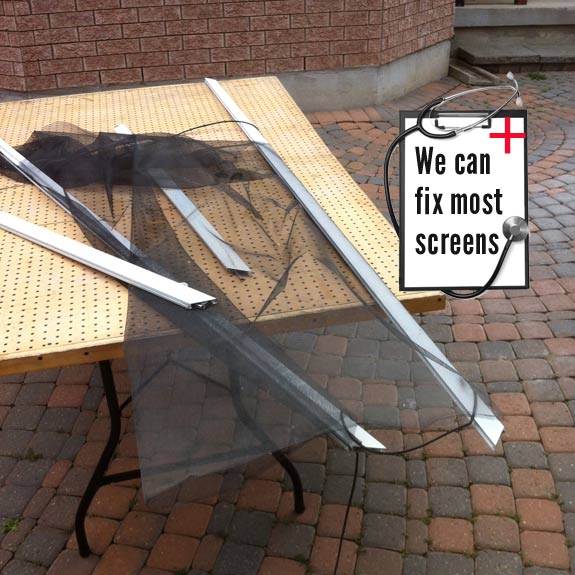 Call us for custom screen installation before placing your house on the market! Get top dollar for your home by making sure that all doors and windows have customized replacement screens, especially those hard-to-fit exterior patio doors. Screens with rips and tears will leave potential buyers wondering about the current state of repair of the rest of the home. Send a positive message by repairing and replacing those old, damaged screens by calling the mobile services of the Screen Repair Man.
Even if you have doors and windows that are completely without screens and frames, we can custom design a brand new screen and frame to fit any style or shape of window, right in the comfort of your own home or office. Call us today for a free quote!
Looking for a Doctor Screen? We can see you Now
Whilst we are not screen doctors, you do not need a doctor to look at your screen, we are screen repair experts, you do not need a doctor to look at your screen you need someone who knows screens. In fact most doctors with screens that need repairing call Screen repair man for all their screen repair needs!