Sliding door roller replacement is a service that is hard to find, as most people call a window or door company who prefer to sell you new patio doors instead of repairing them!  If your sliding patio door is hard to open and shut then the chances are your rollers are worn out and should be replaced.
Is Your Sliding Door not Opening Easily?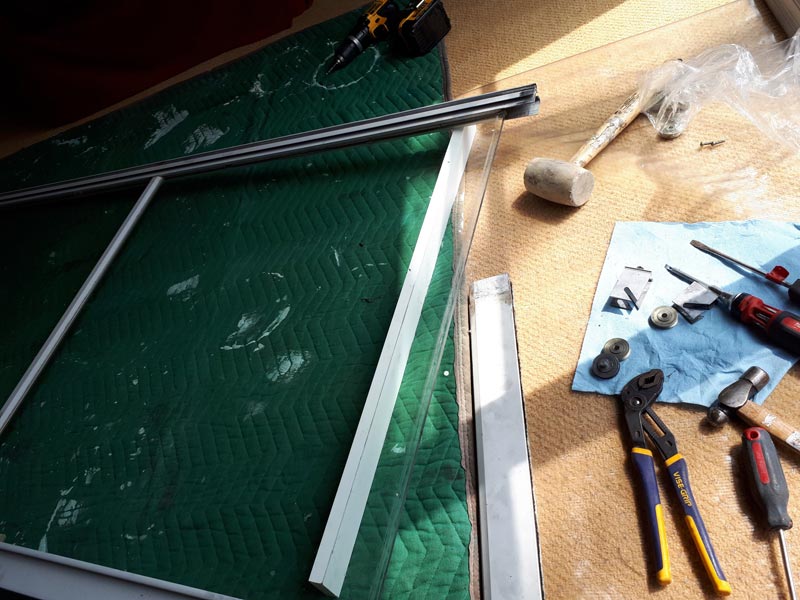 Are you having issues with your sliding door? Do you need to use both hands and leverage off the side just to open the door? Well you are not alone thousands of homeowners struggle with sliding doors that no longer open or close as easily as they once did.
Sliding doors actually don't slide… they roll along the track on rollers. The rolling function tends to be the main contributor in almost all patio door problems including not locking, heavyness, misalignment, scraping metalic sounds, loose handles as well as dragging.
The secret lies concealed in the bottom of one's sliding patio door. There's either a wide groove or a slot (out of view) inside the bottom horizontal part of the frame of the sliding door (the one which moves back and forth) is a set of adjustable metal enclosures, axles, bearings with zinc coated steel wheels known as "door rollers". (A few may be nylon or even stainless steel)
Within the first 15 years of life, most of these roller assemblies start deteriorating, the zinc coating wears away and the metal starts to rust, the bearings wear and reduce (or stop) smooth wheel rotation. The patio door bearing axles wear and can let the door shift and drag along the track walls thus more contact and heavier opening… also the concave groove in every roller can develop flat spots leading to misalignment of the sliding door and some gouging of the lower track rail.
Over time above conditions progressively become more extreme, the sliding door gets more difficult to move back and forth, the door handles may break due to the force needed, and drafts around the sliding door are typical. It's not that your door is old or heavy… it's the rollers are worn out!
Sliding Door Roller Replacement Service
When the door rollers no longer roll, then your door "slides"… so, applying WD40, oil or grease to the door track or rollers can provide some relief but only for a few days if that.
The main thing, you need to simply change the sliding do rollers.
With well over 200 types of sliding door roller assemblies and loads of different patio doors manufactured over the last 50 years, getting the right roller is not an easy task. Many door rollers are no longer manufacturered, so new roller assemblies must be expertly retrofitted.
Regardless, sliding door roller replacement is extremely cost effective and it's typically under 10% of what a new patio door system would cost. Amazingly this only really needs to be done every 15-20 years. Replacing your sliding door rollers will make your life easier and will extend the lifespan of the sliding door so you save money. Screen repair man can replace your sliding door rollers if you are within our service area of Burlington, Oakville, Hamilton, Mississauga, Milton, Ancaster, Grimsby and Stoney Creek